[vc_row][vc_column][vc_column_text]
What To Wear To A Burlesque Striptease Dance Class
If you're anything like me, you like to be prepared and unless you're already deep inside the burlesque culture and industry, you may not know what to wear to your very first burlesque striptease dance class. Have no fear! I've got you covered. If anything I suggest isn't already in your closet, most items can be found on Amazon, at the very least. With prime 2-day shipping, you should be all set long before your next burlesque dance class.
The first thing to note is that burlesque has many genres. It's helpful to know the genre your class is in, as this determines the type of movement and style you will experience. If you've signed up for a "Cheesecake Burlesque" class, suitable clothing might be different than if you've signed up for "Neo-Burlesque" or "Nerdlesque" or "Showgirl Burlesque" or "Polesque." I have a few more genres that I throw in there such as "Speakeasy Burlesque" or "Trumplesque." The latter being how I define Modern Political Burlesque. So, be sure to inquire about the genre your burlesque dance class will be taught in. This may help narrow the selection of what to wear.
I love teaching a combination of "Traditional Burlesque"…like truly traditional. Like back when it was an extravaganza/travesty and took the form of musical theatre parody. Plus a bit of "Showgirl Burlesque" because I fucking love glamour and glitz and a dramatic Femme Fatale. And a smidge of "New Burlesque." I call this combo "Speakeasy Burlesque." Let me set the scene.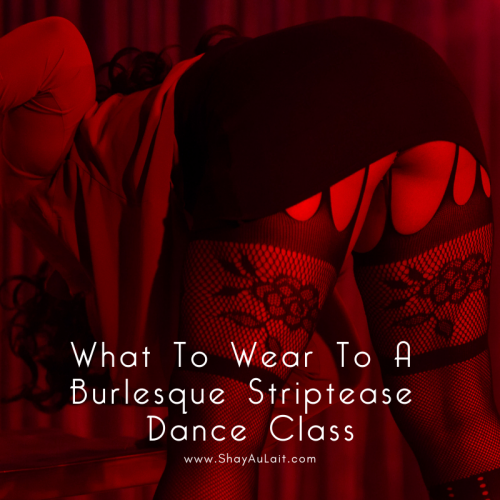 A Speakeasy is an illicit establishment. I like the word ILLICIT. Burlesque is a literary or dramatic work. It seeks to ridicule by means of grotesque exaggeration or comic imitation of the dignified. 
Therefore SpeakEasy Burlesque is a mysterious and forbidden order of society for wicked and wayward souls. For 90 minutes we explore power, pleasure and play through sensual movement and erotic expression. With that in mind, what comes to mind when you think of how you'll adorn your body? Below are some suggestions.
Shay Au Lait's List of What To Wear To A Burlesque Striptease Dance Class
First, ONLY wear what makes you feel comfortable.

If you're not into heels, don't bring them. If corsets feel like a puzzle, fuck them. Wear what you're comfortable moving your body in. (If you don't know what you're comfortable in yet, that's ok. We'll figure that out in class. I have lots of exercises and activities and prompts.)

Wear what makes you feel good.

It's one thing to wear what makes you feel comfortable. It's a whole other level to also wear what makes you feel good. What in your wardrobe makes you ooze? What makes you feel delicious and turned on? What makes you arch a bit? These answers are different for every person. It might be a specific color, a specific texture/fabric or a type of item.

Bring lots of layers.

I'm all for several outfit changes within a single class. My mood changes too much and I like my options. So bring options for yourself. Go all out. It only takes a few seconds to swap out one shirt for another, if the wind blows a different direction mid-class. Also burlesque is mostly about the striptease. In each class with me, at some point you'll take something off. It could be a glove, a shoe, a shirt, a leg warmer or anything. You might take out your hairpin. So the best thing is to bring layers to play.

Bring the "SpeakEasy Burlesque" wardrobe staples

Bra – You can wear a sports bra, a lingerie bra, a bedazzled bra or any type of bra you like. No. Wear a bra you LOVE!
Panties – Whether we ever strip down to panties or not, wear the panties that make you do a hip circle.
Bottoms

Booty Shorts – These could be yoga shorts, frilly shorts, sequin shorts, 

tuille

 shorts, high waisted shorts or whatever you want.
Leggings or Yoga Pants
Tights

 – (my personal favorites are suspender tights or extra wide fishnets) 

Knee High Tights
Skirt

Top 

Tshirt, Tank Top, Button Down

Corset – (front or back fastening)

A Dress
Shoes – Wear shoes that you can dance in. Start with kitten heels, if you're not used to heels.
Accessories and Layers that are fun to play with or make things easier

Garter
Garter Belt
Knee Pads
Garter Belt
Leg Warmers or Knee High Socks
Wig – Because WHY NOT? 99% of the time, I wear a wig to class, just for fun.
Choker/Necklace
Lipstick

Bring the "SpeakEasy Burlesque" additional staples

A journal – (my classes are interactive and immersive. Activities, including writing prompts, will be provided and workshopped during class.)
A bottle of water
A face towel, if you tend to sweat or glisten
Wipes, for your feet
Honorable Mentions of What To Wear To A Burlesque Striptease Dance Class
Elbow length satin gloves

Full-length boa

Pasties
Tassels
Fans
Hat or Headpiece
A shimmy belt
A panel skirt
It's time to pack your bag!
You may be attending a burlesque class for any number of reasons. Perhaps you simply want a sweet taste of burlesque. Perhaps you're training as a performer. Or maybe you just want a flirty fitness experience. In either case, make it fun. Play dress up and enjoy clothes that help you find the extravagant, dramatic and emotional range of your storytelling, striptease and subtext in movement.
What else would you add to my list? What do you wear to your burlesque striptease classes?
[/vc_column_text][/vc_column][/vc_row][vc_row][vc_column][vc_column_text css=".vc_custom_1539729499552{margin-bottom: 0px !important;}"]I also have several Pinterest boards that might serve as inspiration and suggestions on what to wear and bring to class. Follow below:[/vc_column_text][vc_raw_html]JTNDYSUyMGRhdGEtcGluLWRvJTNEJTIyZW1iZWRCb2FyZCUyMiUyMGRhdGEtcGluLWJvYXJkLXdpZHRoJTNEJTIyNDAwJTIyJTIwZGF0YS1waW4tc2NhbGUtaGVpZ2h0JTNEJTIyMjQwJTIyJTIwZGF0YS1waW4tc2NhbGUtd2lkdGglM0QlMjI4MCUyMiUyMGhyZWYlM0QlMjJodHRwcyUzQSUyRiUyRnd3dy5waW50ZXJlc3QuY29tJTJGc2hheWF1bGFpdCUyRnNwZWFrZWFzeS1idXJsZXNxdWUtY2xhc3Mtb3V0Zml0LXN1Z2dlc3Rpb25zJTJGJTIyJTNFJTNDc2NyaXB0JTIwYXN5bmMlMjBkZWZlciUyMHNyYyUzRCUyMiUyRiUyRmFzc2V0cy5waW50ZXJlc3QuY29tJTJGanMlMkZwaW5pdC5qcyUyMiUzRSUzQyUyRnNjcmlwdCUzRSUzQyUyRmElM0U=[/vc_raw_html][/vc_column][/vc_row][vc_row][vc_column][vc_column_text css=".vc_custom_1539729665626{margin-bottom: 0px !important;}"]This board is more for Burlesque Costume Inspiration for Live Performances and whatnot. However, many, if not all of this, can also be worn in class. If you're feeling froggy, do it. Come in full regalia.[/vc_column_text][vc_raw_html]JTNDYSUyMGRhdGEtcGluLWRvJTNEJTIyZW1iZWRCb2FyZCUyMiUyMGRhdGEtcGluLWJvYXJkLXdpZHRoJTNEJTIyNDAwJTIyJTIwZGF0YS1waW4tc2NhbGUtaGVpZ2h0JTNEJTIyMjQwJTIyJTIwZGF0YS1waW4tc2NhbGUtd2lkdGglM0QlMjI4MCUyMiUyMGhyZWYlM0QlMjJodHRwcyUzQSUyRiUyRnd3dy5waW50ZXJlc3QuY29tJTJGc2hheWF1bGFpdCUyRmJ1cmxlc3F1ZS1jb3N0dW1lLWluc3BpcmF0aW9uJTJGJTIyJTNFJTNDc2NyaXB0JTIwYXN5bmMlMjBkZWZlciUyMHNyYyUzRCUyMiUyRiUyRmFzc2V0cy5waW50ZXJlc3QuY29tJTJGanMlMkZwaW5pdC5qcyUyMiUzRSUzQyUyRnNjcmlwdCUzRSUzQyUyRmElM0U=[/vc_raw_html][/vc_column][/vc_row]